Sshhhh…. I'm going to let you in on a secret.
Although knitting lace is an exercise in anality, where the stitch count ultimately must be correct, this does
not
mean that you must perform each stitch cluster perfectly and, if you goof, you must pick or rip back to correct your error.
Instead, think of driving down a straight, flat county road in the Midwest. It may appear that you could just set the cruise control, let go of the steering wheel and stay on the road. But, of course, you can't — there are imperfections in the road surface and grade, your car's alignment, and the "straight" road isn't really ruler straight. All these imperfections conspire to throw your car a little to the right, a little to the left, and anywhere but straight down the line.
So while you drive down that "perfectly straight" road you constantly make small adjustments to the car's trajectory, adjustments so small that anyone observing your moving vehicle would perceive it as going straight.
Thus is it with knitting lace. As you knit along thousands of stitches, with hundreds of small elements of increases and decreases, you goof. You miss a decrease and end up with an extra stitch; you forget to pass the slipped stitch over a S1K1PSSO and, again, there's an extra stitch; you miss a y/o, or put in an extra decrease and your stitch count is too low. You can even have the correct stitch count, but the stitches are in the wrong place because you put a y/o before a decrease rather than after.
And, of course, you may simply have counted wrong at one point or another — gawd knows just how easy it is to lose one's place in counting a line of two or three dozen stitches, especially when one is interrupted by kids, cats, husbands, telephones and doorbells.
Yes, the stitch count must ultimately be correct but, even more importantly, the stitches must be in the right place so the pattern elements line up.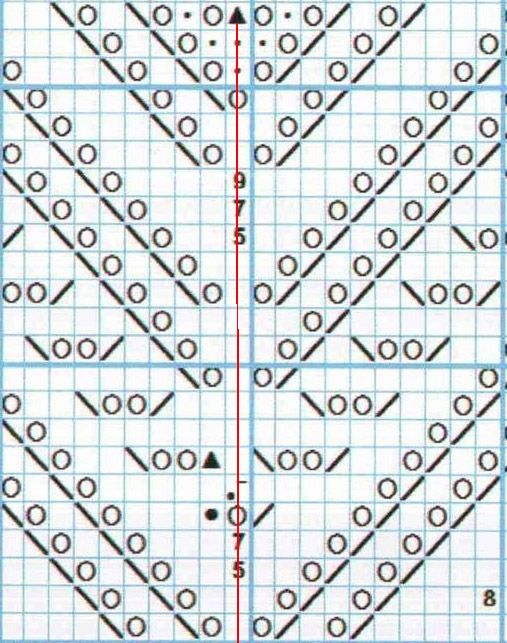 In the above chart section, it's easy to see the elements which are in straight line; charts are theoretically perfect (more on that later). The knit section looks like this: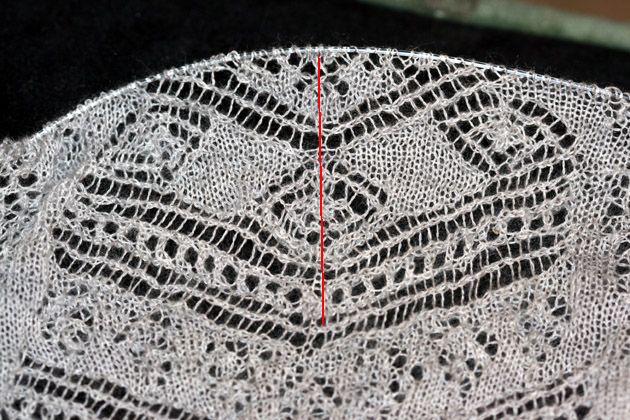 When the piece has been stretched and blocked, there will be a straight line of stitches with no decreases running through the center.
My solution to going down the road counting bad is to not try to count too early — the more stitches there are, the less likely you are to count correctly and, if the stitch count is off, the less likely you are to put a correcting increase or decrease in the right place. Plus, you'll drive yourself nuts and waste time fanatically counting, counting and counting again -- wait until you're closer to needing a correct stitch count between elements, at the beginning or the end of a motif.
On the other hand, it's important to have enough stitches and rows to make the correcting increases or decreases as unobtrusively as possible: if you end up with only two stitches where you'll need five when placing a new element it's much easier to add one stitch over each of three rows, than trying to turn two stitches into five within a single row.
And always remember the
pattern
, not the stitch count, rules — put the elements in their proper place and if that means increasing two stitches on one side of the element, and decreasing one on the other side, do it that way.
Then there are those instances where you're fucked up within an element — and when you go to knit the next row nothing is where it's supposed to be, you've a decrease where there should be a y/o, a y/o where there should be a plain stitch — you know, where it's just
not right
.
Importantly, understand that it may be
your perception
, not a mistake — look again at the chart for the previous row, and for the current row, and check that you're interpreting the chart correctly. If it still all seems wrong, put your knitting aside: when you're fucking up all over to hell and back, most likely it's because
you are tired and should put the damned thing away until the next day — or at least for a couple of hours
In the long run you lose no time. Because half the time it's not that you've fucked up, it's just that you lose track of where you are and think you fucked up, and in trying to correct the nonexistent fuck ups you will create a fuck up.
But, if you do end up with a true fuck up, the easiest option — in my opinion, the best option — is to plow ahead, figure out where the elements should be for the
next
row, and get the stitches in that order through brute force. Trying to drop a few stitches down a row to correct the error almost invariably leads to disaster — you likely won't be able to correct a multi-stitch error in any event, and make a bigger mess in the end. This photo shows what happened when I missed catching a
single stitch
when trying to pick back and correct an error: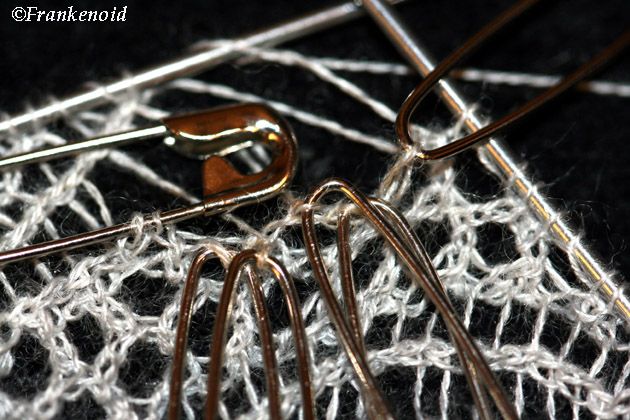 Yes, that one stitch's connections to the various decreases and increases and y/o's in the previous rows quickly multiplied into seven loose stitches two rows down.
A forced alignment over a few stitches in one row will almost surely be invisible to anyone not searching for it. Consider an expressionist painting — while from a distance it makes a coherent image, close up it appears as a jumble of paint splotches. Knit lace is the same — from a distance it gives an impression of perfect precision, but within it's such a massive number of stitches and elements, errors become invisible among the entirety,
as long as the elements end up correctly in line
.
Next time: reading charts — including discovering where the chart is in error.